5 things you must know about modular prefab construction
5 THINGS YOU MUST KNOW ABOUT MODULAR PREFAB CONSTRUCTION
Modular or prefab construction, more commonly known as offsite construction, involves manufacturing of the building's components in a factory-controlled environment. These components are then transported to the final location for assembly and installation. Modular prefabricated units include doors, wall & floor panels, windows, and electrical & plumbing fittings to construct the building.
Modular prefabricated constructions offer a number of important benefits such as sustainability, more usable space, and high degree of customizations.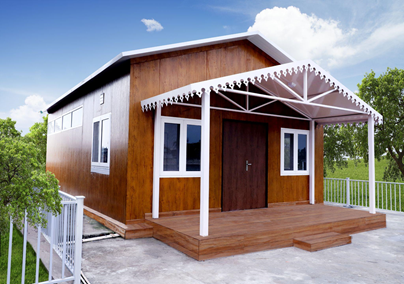 BENEFITS OF MODULAR PREFABRICATED HOUSING
Some of the major benefits of modular homes include:
Shorter Construction Time: If you need to shift into your dream house quickly, modular housing is the right choice because it is 2x to 3x faster than traditional brick-and-mortar construction.
Flexibility: Modular construction can be easily disassembled and relocated to different sites. This significantly reduces the demand for raw materials, minimizes expended energy and decreases overall time. Since prefabricated construction units can be used in different spaces, its neutral aesthetics is able to blend in with almost any building type.
Consistent Quality: Since prefabricated construction occurs in a controlled manufacturing environment and follows specified standards, the sub-assemblies of the structure will be built to a uniform quality. With prefabrication, each sub-assembly is built by an experienced crew in a factory controlled environment, with multiple quality checks done throughout the entire process. 
Eco-Friendly: Modular construction is often commended for energy efficiency and sustainable construction. Traditional construction methods require extra materials that lead to increased waste.. This is a considerable improvement over sending waste directly to a landfill from a traditional construction site.
Safety: Since sub-assemblies are created in a factory-controlled environment utilizing dry materials, there is less risk for problems associated with moisture and environmental hazards. This also ensures that those on the construction site are less likely to be exposed to climate and pollution related health risks. Also, an indoor construction environment prevents considerably fewer risks for accidents and other liabilities.
Related Article - WHY ARE ECO-FRIENDLY PREFAB HOMES A BETTER ALTERNATIVE
Nest-In from the house of Tata Steel provides unique steel-based modular construction solutions, suitable for various applications like modular office spaces, rooftop homes, portable cabins for rest areas near construction sites, and more. The structures are made of high quality steel, making it fire and seismic resistant.
Nest-In, through its proficiency in the prefabricated house construction space, has effectively delivered improved solutions to a wide range of users through its HabiNest and Nestudio offerings.
Speedy construction, resistance to seismic disturbances, and usage of superior quality of components & services makes Nest-In the perfect choice for all types of shelter necessities.
Posted in HabiNest on Dec 07, 2021.