Building your House without Bricks? Take a Look at the New Construction Solutions Emerging in India
When construction is on one's mind, we always tend to think of bricks and cement. It is almost as if brick-and-mortar construction has become synonymous with the construction and building of structures. After all, bricks have been the basic unit of living structures for a long period of time.
However, with the development in technology and innovations in the construction industry, certain alternatives have come up that can be used in place of cement and bricks.
Innovations in the Construction Industry
Accelerations and innovations in technology have been drastically reshaping the construction industry in India over the years. The development of technology has been bringing in a revolution in the construction sector. Alterations in the methodologies used in the construction industry are contributing towards driving away long-standing inefficacies which have been causing low productivity.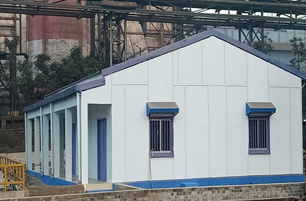 Recent exploration and analysis have come up with methodologies that can construct homes, temporary or permanent structures without using bricks, with steel-intensive prefabricated construction emerging as one of the leading and preferred alternatives. Several Government bodies and other organisations have been choosing prefab structure solutions to set up facilities such as rest areas near mines etc or healthcare centers for, especially during the time of emergencies when high-speed construction is the need of the hour.
New Emerging Construction Solutions
Light Gauge Steel frame construction has come up as a fast-adopting alternative to brick and mortar construction. In this type of construction, steel frames are used to form the backbone of the structures instead of conventional rebars and brick structures. LGSF structures are highly durable and are resistant to seismic waves and harsh terrains.
Related Article - WHAT IS LIGHT GAUGE STEEL FRAME STRUCTURES IN CONSTRUCTION?
Advantages of Structures built without Bricks
Sathish Kumar M., President of National Real Estate Development Council (NAREDCO), Karnataka Chapter, mentioned that prefab structures are much more sustainable, light weight, and the longevity is higher than concrete structures. Prefab structures can also be constructed 2-times faster than traditional methods.
Furthermore, he says that concrete construction can age with time whereas structures built with steel can better withstand elements of weather and corrosion. They also have better thermal efficiency, and also look elegant in appearance.
Related Article - VISION FOR A GREENER INDIA: CAN MODULAR CONSTRUCTION SOLUTIONS REPLACE BRICK AND MORTAR?
Prefab Construction Solutions Offered by Tata Steel Nest-In
Tata Steel Nest-In offers a range of prefabricated construction solutions.
Nestudio, Nest-In's range of premium prefabricated living solutions using designer-grade PUF panels, enables you to create a premium living or working space with well-designed structures. It ensures maximum comfort and hassle-free installation, providing interiors and exteriors with a premium finish.
HabiNest is a unique Light Gauge Steel Frame (LGSF) solution from the house of Nest-In by Tata Steel. HabiNest buildings are constructed in almost 1/3rd the time it takes for conventional construction, provide more usable space and are suited for construction in difficult terrains as well. These structures are best suited for disaster prone areas, which are not just sturdy but completely hassle-free to maintain.
MobiNest is a range of portable cabins from the house of Nest-In, which comes in customisable sizes and are designed to meet the fast-paced needs of the modern world. The cabins are portable, easy-to-install and can be relocated most commonly used at offsite workspaces for manufacturing, mining and construction companies and can also serve as an effective housing and sanitation solution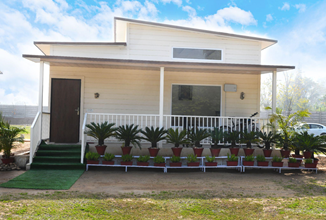 Posted in HabiNest on Dec 07, 2021.