Vision for a Greener India: Can Modular Construction Solutions Replace Brick and Mortar?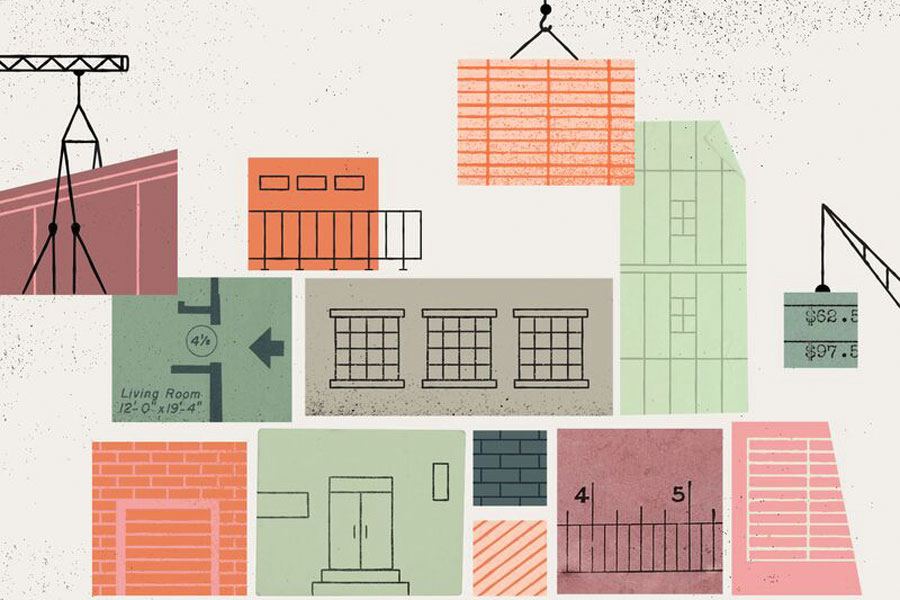 With recent advancements in design and technology, it is evident that modular construction techniques are gaining importance in the construction industry. This solution is much more feasible than the existing conventional methods of brick and mortar.
In July 2017, the Prime Minister of India also directed the use of 3D Technology to speed up housing construction in India. India needs the highest number of houses, possibly at the lowest price point and in the shortest timeframe.
Modular Constructions: The Art of Reducing Waste
Identified as one of the replacements to altering the speed of conventional construction methods at a rapid rate, modular constructions reduce construction wastes, CO2 emissions, noise, dust, and other nuisances by reducing the overall on-site construction activity.
Here the construction occurs off-site and differs from the conventional building process of brick and mortar. Under controlled plant conditions, using the same materials and following the same codes and standards, the building structures are produced in modules and it usually takes half as much time to build these modules.

When the modules are completed, they are then transported and installed on-site as structural foundation blocks for the buildings, reflecting the identical design intent and specifications, without compromise.

A MODULAR CONSTRUCTION SCHEDULE

With India progressing into a smarter time and age, there is a need for newer, more innovative, and faster construction solutions that will keep this momentum going.
Nest-In by Tata Steel is a steel-based modular solution brand that offers fast, robust, and greener structures than the conventional ones because of our construction techniques that produce lesser waste during construction.

A research study conducted by Tata Steel observed that the environmental benefits of HabiNest, Nest-In's Light Gauge Steel Frame (LGSF) construction solution, when compared against a conventional brick and mortar structure, showed a total of environmental savings of 48 percent to 61 percent. The same study reports that HabiNest consumes 48 percent less fresh water and emits 53 percent less greenhouse gases than conventional homes. Apart from that, from the National Family Health Survey (2015-16), approximately 31 percent of the urban households lacked an access to piped water or public water systems.
Nest-In's AquaNest is one such solution that offers clean and affordable drinking water to the masses. Besides the deteriorating air quality index, paucity of affordable and unadulterated drinking water options in public places- by installing water ATMs, communities in water-scarce regions can enhance their lifestyle and reduce the incidence of disease caused by waterborne pathogens and other pollutants.
We offer seven such unique modular construction options that provide fast, easy construction, resistance to earthquakes, reliable service, quick installation nationwide, and quality assurance that gives the brand an edge for all types of shelter needs.

Additionally, since the depletion of resources makes it more critical than ever to make intelligent use of the world's resources and employ the most sustainable technologies, let us look at why one should opt for modular constructions/solutions.
Our Goals Towards Sustainability
Know More About Modular Construction
Since steel is 100% recyclable, Tata Steel is carrying out various initiatives to develop sustainable products and offer its benefits to the community.
Such constructions are high on energy efficiency and offer quality control that results in lesser expenses of labour, power, materials, space and overheads.
Quality Materials and Code Compliance:
In modular construction, the same materials - wood, concrete, and steel - are used as in conventional structures- specified by architects.
Along with this, the amount of waste materials is much lesser than the on-site construction process. Reduction in construction time also means receiving an earlier return on the initial investments made for the construction.
A Limitless Potential for Designs:
Once erected, modular units are virtually indistinguishable from site-built structures because they have been designed to match the traditional aesthetic of an existing building.
A Greater Degree of Flexibility and Reuse is Possible: 
The modules of modular buildings can be disassembled and relocated for different uses, minimizing the use of raw materials and the energy expended to build a structure for various purposes. 


Conclusion:
The benefits to leverage from modular constructions are many. In a world where environmental concerns are growing, industries are developing methods to reduce their environmental impact. A significant portion of landfill waste comes from the construction industry, which takes up 40% of the total landfill space. Thus, a crucial element of the sustainable construction industry is adopting modular construction techniques/solutions.
Thus, Nest-In strongly believes that modular construction will lead to significant infrastructure projects in the coming decades.
Our construction solutions are efficient for meeting both the requirement of faster delivery and lower costs in the Indian market and this is an ideal opportunity to explore the possibilities of building your sustainable space with us.
Posted in HabiNest on Oct 08, 2021.