How is Light Gauge Steel Frame Construction done? Let's take a look at how HabiNest is used by Various industries
Modular Construction in India
Modular Construction has emerged as a revolution and is one of the technologies in the architectural and construction sector that is gaining popularity. It comes with a wide range of social and environmental benefits compared to conventional construction, thereby establishing itself as the solution for a better tomorrow.
Modular construction has started gaining more popularity and relevance in India, primarily because the construction time is 3x faster than conventional techniques. In places where space is a constraint, modular construction is the ideal choice as it can offer up to 10-15% more usable space compared to RCC structures (varies based on the design and area). 
Keeping the growing demand for infrastructural requirements in mind, Tata Steel Nest-In introduced HabiNest, a unique Light Gauge Steel Frame construction solution,designed for the Indian consumer which is completely hassle-free and is best suited for disaster-prone areas.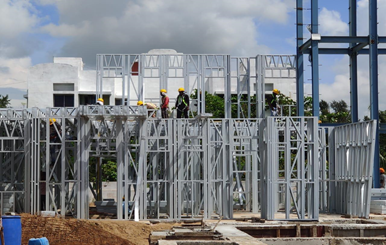 Due to the depletion of natural resources like timber, rocks, clay and sand, the use of Light Gauge Steel Frame system is an attractive alternative in landed properties as it is more environment friendly and sustainable.
Why Use Light Gauge Steel Framing System?
High Speed Construction – 3x faster than conventional construction.
Less weight, greater recyclability – A HabiNest structure weighs lesser than a conventional brick-and-mortar building and also generates minimum construction waste.
Sustainability – 48%-61% environmental savings as compared to conventional buildings over a range of life cycle categories
Installation – LGSF construction is highly durable and can be conveniently installed across different terrains and geographies
Insect resistant – Termites and insect resistant
Earthquake & wind resistant – Highly resistant to seismic and strong wind forces, HabiNest is suitable for construction in disaster-prone areas
Fire Rating- Walls are fire rated for up to 90 hours.
Who uses HabiNest and why?
HabiNest, a unique LGSF solution by Nest-In, is ideal for building industrial amenities, residential complexes, offices, community centres, schools, hospitals, and more. Construction of up to G+3 levels is possible with HabiNest.
HabiNest is the right choice for people who are looking to build sturdy, multi-storeyed buildings within a quick span of time.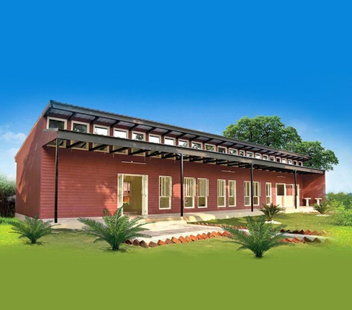 Sites:
Medical buildings
Residential buildings
Commercial buildings
Hybrid construction
Educational buildings
Industrial infrastructure
Common Uses for HabiNest LGSF buildings
Medical Facilities
Modular buildings are completely capable of meeting the stringent specifications of the medical field. These structures can be added onto existing buildings to enhance patient capacity and can be easily installed in remote locations and developing countries. Laboratories, clean rooms, and clinics can be quickly built and installed with customized features such as piping and ventilation for clean air and water, load-bearing floors for heavy equipment, special workstations for testing, and soundproofing for patient privacy.
Related Article - MODULAR CONSTRUCTION IN HEALTHCARE - THE FUTURE OF DESIGN
Industrial Amenities
Industrial office complexes can be built with any type of interior or exterior to seamlessly blend into an existing building or can exist as a standalone structure. Common applications for these types of modular buildings include offices, administrative buildings and conference rooms. Additional uses for construction sites and manufacturing facilities include rest rooms and site offices.
Education Institutes
Prefab buildings are an ideal solution for rapidly growing school districts with increasing enrollment and limited space and can be used as permanent classrooms. Prefab construction is also being used by leading universities to construct classrooms, libraries, academic blocks and cafeterias. In fact, Nest-In is constructing a 2 Lakh Sq. Ft. college campus for one of its clients.
Related Article - MODULAR CONSTRUCTION IN EDUCATION: PORTABLE CLASSROOMS AND PERMANENT BUILDINGS
The Versatility of Modular construction
Versatile and reliable, modular construction offers countless design and feature options that can be built on-demand in a fraction of the time required for traditional construction. Before you embark on your next project, consider whether modular construction could fulfil your unique building requirements. You may be able to save significantly on time  — without sacrificing the quality and reliability offered by traditional construction methods
Posted in HabiNest on Dec 07, 2021.